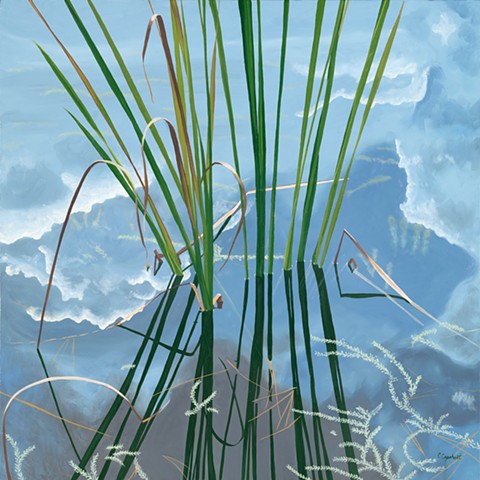 Cindy Capehart is a visual artist and long time resident of Gainesville, Florida. She graduated from Pratt Institute in Brooklyn, New York with a Bachelor's degree in Fine Art in 1989. While she enjoys photography, drawing, printmaking and painting; painting in oils on canvas has become her primary means of expression.
Capehart has found her inspiration in the natural world. In her current work she takes a different view of the landscape by focusing closely on the subject. Capehart begins her process by photographing her subject, mostly plants and trees. She "zooms in" on her subject capturing details in the landscape. She uses photo editing software to finalize the composition, then using the photo as a reference, creates a painting in her studio. In designing such a composition based on patterns in nature Capehart is exploring the abstract qualities inherent in nature. What results is a bold and dynamic painting that evokes a sense of intimacy as well as unexpected tranquility.
She has paintings and reproductions for sale. She sells her work at art festivals and in galleries. If you want to contact her, to comment on her work or to ask a question, or even to buy something, click on "contact" and fill in the form. Most images are available as reproductions, either as an 8x10 matted to 11x14 or as an 11x14 matted to 16x20. Paintings that are square are available as 12x12 prints matted to 16x16. Some are even available framed.
Her art festival schedule is listed under News.